Joining a Simpli5 org when you already have a Simpli5 profile
Q: I've been invited to join a Simpli5 org, but I already have a profile. Do I have to create a new profile and take the assessment again?

A: No!
When you are invited to join a Simpli5 org and already have a Simpli5 profile (through another Simpli5 org or through Simpli5 Relationships), then there is no need to set up a new profile or
take the assessment again
.
If your new invitation was sent to the same email address as your existing profile, then the system will recognize this and automatically prompt you to log in with your existing credentials to join the new org to your profile.
When you click the "Accept/Decline Invitation" link, it will automatically open in your default browser the Setup Profile form.

STOP! There is no need to complete the Setup Profile form if you already have a login.
If you already have a profile in another Simpli5 (corporate) org, click "Login" to

join your accounts

.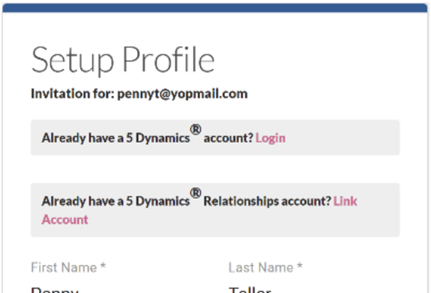 To join your existing Simpli5 profile

Click
"Login"
near the top of the Setup Profile form and, when prompted to log in, enter the email address and password of your existing Simpli5 profile. The new org will be added to your list of available orgs as long as that org remains active.
If your existing profile is associated with an inactive email address (e.g., through a previous employer)

submit a desk ticket

to request your profile be associated with your new address.
To transfer your Relationships profile
Your Relationships profile—including your password—will be used to create your corporate profile, and you will be taken to the My 5 Dynamics page where you can begin to explore everything Simpli5 has to offer.
Need more help?

Related Articles

Getting Started in Simpli5®

Getting Started You will receive an email invitation to join your organization's network in the Simpli5® platform. This automated, system-generated email comes from notifier@simpli5.com, with the subject line "Simpli5 Invitation." You may need to ...

Simpli5® Profile Privacy FAQ

What am I sharing in Simpli5®? The primary information shared with others in your organization's network is your name, email address, and Energy profile; if you choose to add optional profile information or an avatar then those also may be visible to ...

I need help on the My 5 Dynamics page

Understanding Your Own Energy Pattern My 5 Dynamics is your landing page on login; here you can tap the module boxes for videos and your Individual Content—including Work Preferences, Energy Map, Time Map, Performance Cycle, Learning Preferences, and ...

Profile Setup Troubleshooting Guide

Invitation Link When you click the link to "Accept or Decline Invitation" to automatically open Simpi5® in your default browser, what happens? I see the Setup Profile screen. Move to the next question below. I see a blank screen. This is usually ...

When is a license used?

Summary When an Account Administrator invites new members to join your organization, licenses are allocated to create the invitation. If the invitation is declined or expires (after 30 days), the license is returned to your Licenses Available pool ...